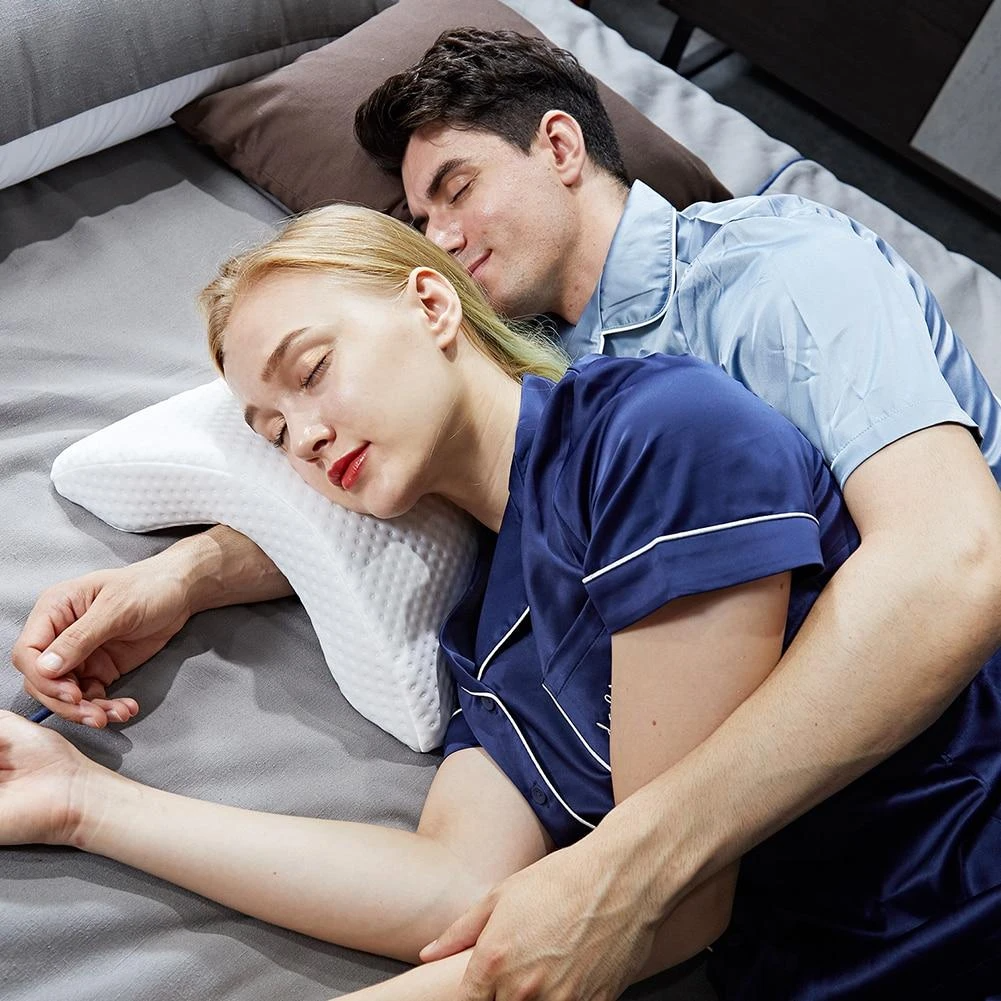 Get The LUXSLEEP Love Pillow!

It's almost November; you know what that means. "Cuffing Season" is right around the corner.

It's that time of year when the weather gets chilly, and the people look for cuddle-buddies to keep them warm during the winter, and especially the holiday season when love is in the air. Enter into 'cuffing season' with our LuxSleep Love Pillow!


Don't let your pillow cramp your cuddle style. We've got your covered. The Love Pillow's unique ergonomic design prevents your arm from going numb half-way into a cuddle session.

That always seems to kill the vibe- right?

What actually happens here is that the weight of your head or your partner's head is cutting off blood flow by squashing your arm, wrist, or hand.

Having to adjust your position continually is not exactly romantic, right?

Thanks to the incredible design of our Love Pillow, your arm won't fall asleep or go numb mid-cuddle. Now, you can snuggle up comfortably to your partner while you fall asleep sleep or have an old-fashioned "Netflix and chill" sesh.

Science shows that skin-to-skin contact we get while cuddling releases Oxycontin, also known as the "feel-good" or "love" hormone.


What is Oxytocin?

Oxytocin is a naturally occurring hormone produced by the hypothalamus and secreted by the nearby pituitary gland. According to experts and relationship therapists, cuddling is vital to intimacy!

Studies have proven that the connection and closeness that comes from cuddling fuels better and more satisfying sex. Cuddling is one of the easiest ways to experience intimacy, regardless of sexuality, sex, or gender.

Although sex is important to many, cuddling is beneficial in many other ways!

Of course, cuddling doesn't have to be between you and your romantic partner. Cuddling or snuggling with someone is incredibly helpful in creating a healthy sleep environment for you and your sleeping partner as well.

With the beautiful benefits of oxytocin, sharing in cuddle-time before bed can slow your heart rate and relieve pain!

Spending just 10 minutes in the "spooning" position right before sleep is hugely impactful in your sleep habits and overall health.

What makes the Love Pillow so unique?

The innovative hollow design at the bottom of the pillow prevents numbness in the arms during sleep, the main cause of interrupted cuddling. The gentle, contoured slope of these pillows supports the neck and shoulders and may help alleviate any tension or stiffness in the spinal column by promoting proper spinal alignment.

The Love Pillow will feel softer in warm climates and firmer in cold climates, adjusting to your body's temperature, making it perfect for everyone!

If you need another reason to try The Love Pillow, the silk pillow cover is comprised of 100% silk natural cotton, so sensitive skin is no problem!

The fabric protects the pillow from dust mites, pet dander, and more. We believe that everyone can benefit from this amazing pillow, made with lots of love and care.

Consider giving The Love Pillow as a gift this upcoming holiday season!

Everyone could use a little love.