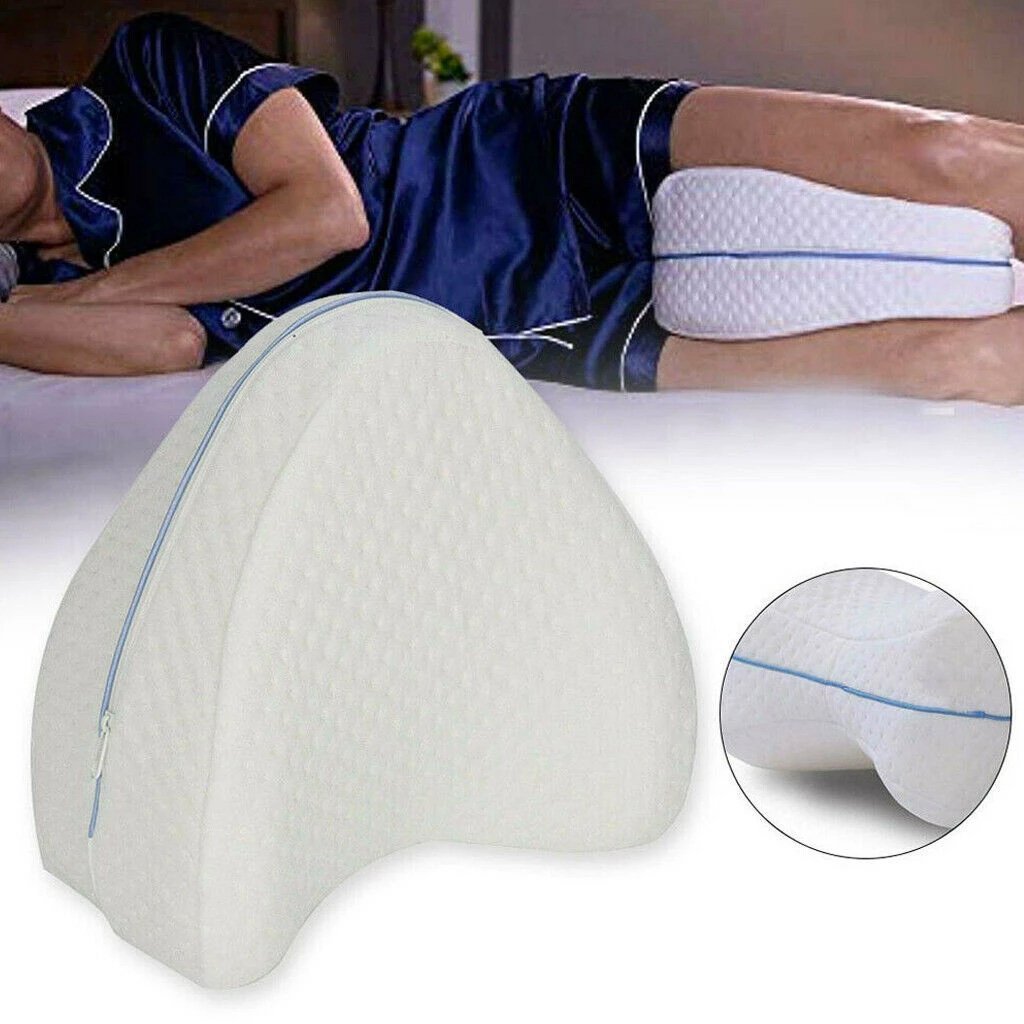 Does never-failing back or hip pain keep waking you up in endless cycles throughout the night?

You're not alone. If you, like many, struggle with irritating sciatica pain, lower back pain, or hip pain, the LuxSleep™️ - Knee Pillow can give you the relief you've been dreaming of!

Tired of tossing and turning?

Sleep like a baby with the Lush Dream Knee Pillow!

Thoughtfully and carefully designed to rest comfortably between your legs during sleep, our ergonomic cushion is an ideal fit to provide the necessary spinal alignment needed to reduce the discomfort that is responsible for restless sleep.

You deserve to make a full night's sleep a part of your routine!

Good sleep is imperative for a healthy lifestyle.

Be more energized, happy, and well-rested when you switch from your old lumpy pillow to our LuxSleep™️ - Knee Pillow!

What makes our Knee Pillow different from all the rest?

This design fits and stays comfortable between the legs, unlike your overused bulky or flat pillows.

Our advanced design never flattens and doesn't need to be continuously adjusted in the night!


The Knee Pillow is durable, easy to clean, and travel-friendly.

Take this pillow with you wherever you roam! We encourage it.

This amazing pillow is handy with a zippable breathable covering that ensures that the pad properly ventilates, which means this pillow does not overheat.

But is it machine washable?

Yes! You can rest assured that this pillow will withstand your day to day life.

We want to put an end to this all too common discomfort and disruption during sleep. Sleep should be enjoyable!

This ergonomically shaped design keeps your legs, hips, and spine aligned while sleeping, improving circulation and posture.

Poor posture and blood flow are the causes of an array of underlying health conditions.

It's so important to put a quick end to these symptoms before they lead to worsening impairment. We care about our customers and their overall comfort!

No more popping your back first thing in the morning!

Experiencing daily pain can disrupt your life, making your routine difficult and especially tamper with your sleep quality.

Back and joint pain resulting from poor spinal alignment is one of the leading causes of unhealthy, restless sleep.

Sleep is vital for a healthy quality of life!

Sleep is terrific for your mental health, mood, and energy. Let us help you get back to sleeping soundly and deeply!

With the LuxSleep™️ - Knee Pillow, you can finally experience the relaxing sleep you deserve.

Our pillow is backed by chiropractors and physiotherapists thanks to its ability to regulate circulation and provide your back, hips, and spine with nearly perfect alignment.

Say au revoir to the cycle of tossing and turning!

If you have disruptive pain or discomfort in your back, knees, joints, or hips, give our LuxSleep™️ - Knee Pillow a try and see what you've been missing.

You deserve the sleep of your dreams!

"The pillow is very comfortable.I have used a Tempedic knee pillow for years. But this pillow is very soft and retains its shape.

It also is cool still provides plenty of comfort. I like that the shape of it provides a firm fit between my knees."

Henry K. | Verified Buyer

"I am very pleased with the product.I've had it for three days, and I like it more every day.The first night I used it, it felt so good.

Whether I had my knees bent in a fetal position, or straight, the pillow stayed in place and took pressure off my lower back and hips.

I highly recommend this product."

Sophie Z. | Verified Buyer