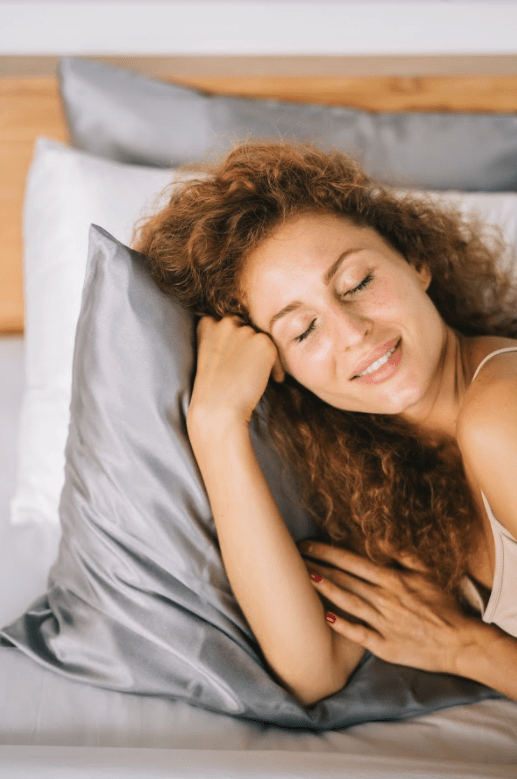 That might seem like a bold statement, but hear us out. Silk pillowcases are not just luxury covers used to glam up your bed and make you feel like a QUEEN. They also give a whole new meaning to the term "beauty sleep". No more frizzy hair in the morning. No more acne breakouts. No sleep wrinkles. The benefits of investing in a high-quality silk pillowcase are massive!
Here's why silk pillowcases are considered the ultimate accessory for your beauty sleep and why you should buy one for yourself ASAP. The benefits of using a silk pillowcase - Before we explain why silk pillowcases are AH-MAZING for your skin and hair, let's just take a moment to appreciate the fact that years of research and development have been invested in offering you a luxurious sleep experience. Take LuxSleep™ Mulberry Silk Pillowcase as an example.
Our sleep experts have spent years creating the ultimate combination of shine, thickness, softness anddurability. This epic pillowcase is made from the highest grade long fibre mulberry silk and non-toxic dyes. It's designed to keep protect your skin and your hair! How amazing is that?
Now let's see why you should get your own silk pillowcase.
1. Premature ageing prevention - Unless you manage to sleep on your back all night, every night, a regular pillowcase will leave marks on your face and can even cause wrinkles in time, especially around the eyes (Yikes!). The Lush Silk Pillowcase can help to reduce friction, which means less stretching and tugging on delicate facial skin. The skin simply glides along the pillow surface, reducing pressure on creases.
2. Silky hair, don't care! - Sometimes the worst thing to wake up to is bed hair. How many times have you assessed the situation only to realize you need heaps of styling just so you can look presentable? No more, we say! Just as it helps keep your skin young, the Lush Silk Pillowcase preserves your blow out and protects your hair from the tangle you usually get when sleeping on a regular pillowcase.
3. Cleaner than a regular pillow case - Silk fibres have the ability to wick away moisture, thus preventing bacteria buildup. What does this mean for you? First and foremost, it means you'll get less acne breakouts and your skin will be kept cleaner during the night. As for nighttime skin care routine, we have more good news: silk is less absorbent than other materials, so all those serums and face creams will stay where they belong: on your skin!
So what do you say?
Are you ready to upgrade your beauty sleep with a luxe silk pillowcase?  If so, make sure you check out our LuxSleep™ Pure Mulberry Silk Pillowcase - it comes with a FREE silk sleep mask and 30-day money back guarantee no questions asked.