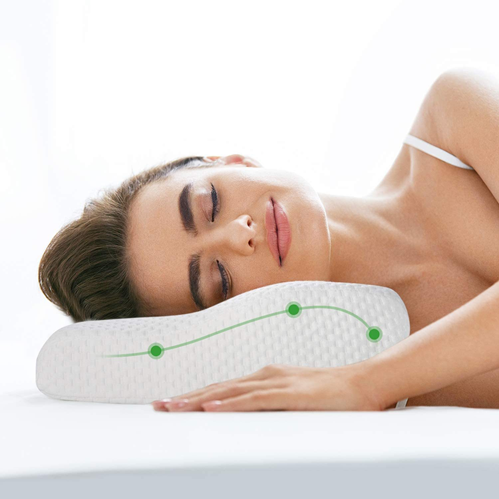 How are you sleeping? Recent studies show that humans worldwide aren't getting enough rest in their daily lives, leading to an array of poor health conditions. According to the CDC's recent findings, 1 in 3 people sleep less than seven hours a day, and women are sleeping around four to five hours a night on average. Only four to five! We need our rest more than ever.
Times are tough, and one thing we all have in common is that at the end of a hard day's work or a busy day at school- we like to come home and sleep. A quality night's rest is vital for a long, healthy, and happy life. The problem is that we have the wrong pillows! The LuxSleep™ SMART PILLOW is the answer to restless sleep, neck pain, joint stiffness, headaches, and discomfort.
The sleek, ergonomic pillow design supports your head and neck to promote better spinal alignment, which relieves bothersome pressure. With high-quality memory foam, the pillow adapts to the shape of your shoulders, neck, and head to provide needed support during sleep, contouring to your body! This pillow is for everyone.
We recognize that people are unique and sleep, and not everyone rests in the same positions. You can sleep in any preferred position with the Smart Pillow and still feel fully supported. You will wake up feeling as if you slept on a cloud.
What makes this pillow so special is that it is formed from sensitive, skin-friendly, anti-microbial fabrics. You can rest comfortably assumed that this pillow is of the highest quality materials. The fabric is durable and made to last a long time, making it perfect for travel!
As children are heading back to school and getting used to a new sleep schedule, it is the perfect time to switch the Smart Pillow. After a long day in class, your child deserves the best sleep possible.
The SMART PILLOW is also cost-effective. It comes ready with a machine-washable pillowcase, which cuts down on the costs of having to purchase your own. This pillow will save you time and money by eliminating the doctor's office and time spent in the pharmacy. This is an investment that will pay off time and time again! Just check the reviews.
There are countless pillows on the market, but none which checks off all the boxes like the Smart Pillow. It truly is the smart choice! Buy more and save with our bundle deals. It's our little way of saying we care.
❌ Restless sleep
❌ Neck Pain
❌ Stiffness
❌ Headaches
✅ Sensitive Skin
✅ Contours to Body
✅ Relieves Headaches
✅ Sustainable
✅ Cost-Effective
✅ Washable Pillowcase
✅ Advanced Spinal Support
✅ Travel Friendly
Experience Tremendous & Revitalising Sleep!
Our experts have spent years of research to develop and create the best all-in-one pillow. The Smart Pillow is the fantastic result!
Try the Smart Pillow today and get 5% off if your first order just to say, "Thank you!" Join our family of dreamers.